Contemporary Agrarian Art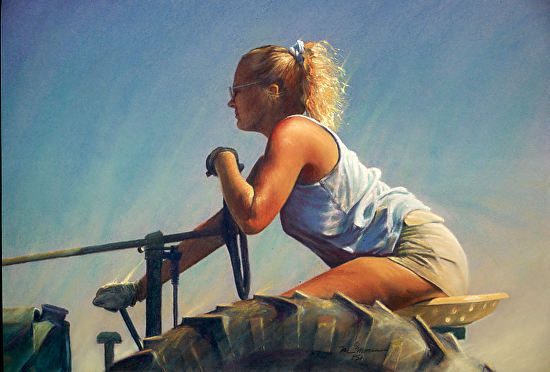 Easing the Clutch, pastel, 20x30"
"(In) Growing up on his family farm,...depicting agrarian people in a dignified way gave Moseman passion for his work."
-Southwest Art (Artists to Watch)
"He paints to keep the spirit of his people alive in our contemporary American experience."
-Jay Nelson, Strecker-Nelson Gallery
"Using simplified compositions with strong light and color, he captures the ephemeral nature of agrarians at one with the land."
-Lloyd E. Herman, Curator & writer, Object Lessons, Guild Publishing
"...his work is reminiscent of 19th century French painting, like Millet and different paintings that idolize peasant worksers."
-Ronald R. Bernier, Director, Sioux City Art Museum
"...the paintings of Mark L. Moseman are meditations on the need for nature and ordinary people."
-Reece Summers, Curator, Great Plains Art Museum
"Mark has done an exceptional job of compiling an extensive collection of Agrarian Art at Bone Creek Museum (of Agrarian Art)"
Jon McGraw, President Buttonwood Financial Group, Buttonwood Art Space
"His ideas inspired a new direction and mission."
Anna Nolan, Founding President, Bone Creek Museum of Agrarian Art
"All the figures in Moseman's paintings are defenders of their beloved land. They work to keep it well, and so reflect the artist's own value structure."
-Douglas M. Boughman, American Artist